Industries We Serve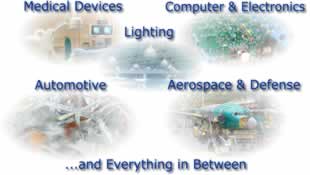 On the West Coast, certain industries have always kept custom metal stamping companies busy, and continue to do so to this day. Industries like Aerospace & Defense, as well as Automotive and Medical, have generated enough custom metal stamping and metal forming work to keep most well-run companies in business. Starting in the 1970s, things really got busy as electronics manufacturing also centered itself in Southern California, and to this day, many of these companies still look to Chapman Engineering to fix problems created by long slow moving overseas supply chains. This has led to a new movement known as "reshoring," in which big companies in many industries have brought their manufacturing back to the United States for reasons of lead time and quality.
Newer industries to the West Coast that rely heavily on custom metal stamping, laser and waterjet cutting are Aftermarket Motorsports, both On and Off-Road, and the Telecommunications industry. Some other industries find Chapman Engineering to be a big help because of our speed, quality, and effectiveness are Solar Energy, high end Plumbing and Lighting, and, in the last couple of years, laser cutting in San Diego for the Medical industry has become very popular.
With over 400 active customers yearly, we do work for every industry imaginable, and some you didn't even know existed. If you have a product made of sheet material and need it made correctly, in a timely manner, and at a realistic price, use the information on this page to contact us with details or to request a quote.