Capabilities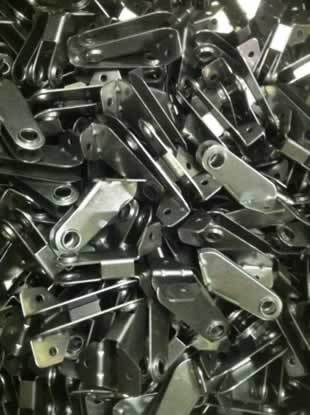 Sheet Metal Production
When it comes to metal stamping, companies all over the country choose Chapman Engineering to meet their short- to medium-run needs. We have developed a unique method of building hardened and ground tooling that can be guaranteed for the life of your product, and at a fraction of the cost and in shorter lead times than using traditional progressive dies. Aided by computer design software and advanced wire EDM machines, we are able to provide new project-customers with laser cut first articles and tooled production parts in days to weeks instead of the multi-month lead times they experience with other vendors. Add to that our production laser and water jet metal cutting abilities, and it's easy to see why companies and individuals come to us for quantities from five to 50,000 pieces in thicknesses from .005" to 1.000".
Our capabilities include:
We service companies in almost every industry, from construction to computer electronics and medical to motor sports. Our customers have been featured on TV shows like Shark Tank, American Hot Rod, and Dirty Jobs. It doesn't matter what industry our customers are in, when they need quality brackets, chassis, and small assemblies made from sheet material, fast and accurately, they call Chapman Engineering first. If you would like to discuss your next project with us use the contact info on this page to request a quote or arrange a visit.