Capabilities
Chapman Engineering is a family owned and operated short run stamping and laser cutting company. For over forty years, we have been fabricating brackets, chassis, and small assemblies from our Santa Ana location for every industry imaginable. Whether you need a few prototypes or production runs up to 50,000 pieces, contact us today for a fast and free quotation.
With 28,000 square feet of the most modern manufacturing equipment available, and the ability to work in nearly any metal and some non-metallic materials in thicknesses between .005 and 1.000", we are the perfect company to take your project from print to prototype and thru production in lead times that are half the industry norm. We are able to work from blue prints, electronic files, and samples, making it easier than ever for you to call, fax, or e-mail us and receive a fast and free quotation. Or, set up a tour of our Orange County laser cutting and stamping facility to get a first-hand look at our operation.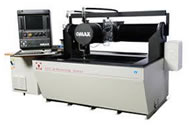 Along with short run stamping and laser cutting we also offer water jet cutting, forming and numerous secondary operations, including hardware installation, spot welding, tapping, and deburring.
Feel free to tour our website. You'll learn about Chapman Engineering's low cost tooling system and how we guarantee it for life, as well as how laser and water jet cutting allows us to make smaller quantities or larger parts at very economical prices. Then, request a quote to get your project started today.
Industries Served